St. Nikolaus Hospital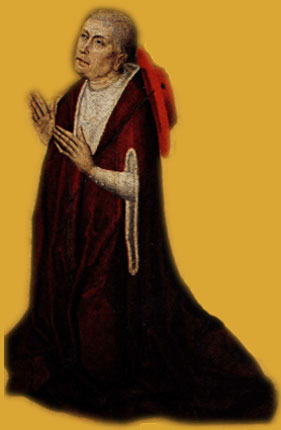 "St. Nikolaus-Hospital, Cusanusstift" is the oldest estate in the Middle Mosel region. Nikolaus von Kues, the best-known ancestor from the town of Bernkastel-Kues, founded it in 1458. Nikolaus von Kues was the son of a fisherman and merchant, and was born in 1401. Due to his extensive studies in Canon Law, Philosophy and Theology, he grew to become one of the most important ecclesiastical dignitaries of his time. At the time when Nikolaus von Kues became bishop and cardinal, he founded the St. Nikolaus Hospital, a social service institution that has been functioning since 1465. At its founding most of the assets were vineyards.
Today, the estate owns some of the finest plots in the well-known vineyard sites along the Middle Mosel, such as: the Wehlener Sonnenuhr, Graacher Himmelreich, Graacher Domprobst, Bernkasteler Badstube, Bernkasteler Lay, Bernkasteler Graben, Brauneberger Juffer, Brauneberger Juffer-Sonnenuhr and others. Wines from these vineyards have always been a symbol of outstanding Mosel wines. The estate owns approximately 44 acres of steep, slate soil vineyards, which are planted with Riesling grapes only. The average age of the vines is 40 years. All wines made by the recognized cellar master Achim Kerpen are fermented and stored in stainless steel tanks. The in-house standards for the quality levels such as Kabinett, Spätlese and Auslese are stricter than the legal preconditions of the state.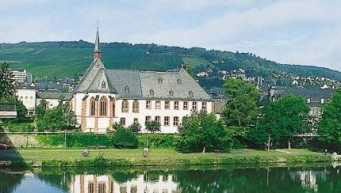 The federal minister has recognized the work of the "St. Nikolaus-Hospital, Cusanussstift" for Food and Agriculture in 1995, when the estate was awarded the highly prestigious "Ehrenpreis," the "Medal of Honor." It also received the "Staatsehrenpreis", the "Medal of Honor" by the State of Rhineland-Palatine in 1996. Over the years, this award-winning producer has received numerous gold and silver medals for its wines, and is a member of the "Bernkasteler Ring" of wine producers. This is the home of quality designations for German wine. Especially for Spätlese, (late harvest) Auslese (selected late harvest) and Eiswein (wine from frozen grapes).