History of Black Riesling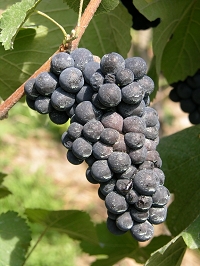 Schwarzriesling traces its roots to France's Burgundy and Champagne regions at least to the 16th century – perhaps even as early as the 4th century. The grape variety is also known as Müllerrebe or Pinot Meunier because of the fuzzy undersides of the leaves, which early observers likened to a dusting of flour: meunier and müller are the French and German words for miller. Schwarzriesling is a mutation of the Spätburgunder, or Pinot Noir, (it buds later and ripens earlier). And, ironically, it's not related to the white Riesling.

Its oenological record is mostly as a blending grape. The finest nonvintage sparkling wines and champagnes have benefited from Schwarzriesling's rounding ability. However, wine lovers in search of something new and exquisite are now recognizing this grape as a standout standalone varietal.

Schwarzriesling is valued in the vineyard for its resilience to frost – indeed, this hearty characteristic makes it an integral part of the German winemaking heritage. Similarly, its late-bloomer status means that it is especially suited to the local climate.

Schwarzriesling's long tradition of being a supporting actor in the production of champagne is coming full circle in Germany: The grape's popularity in the production of German sparkling wines, or Sekt, is on the rise – although in this incarnation, the grape is clearly the star of the show. Most German Sekt production features 100% pure Schwarzriesling as opposed to the traditional French method of using Pinot Meunier as part of a nonvintage blend.

Schwarzriesling has a tendency to produce a fruitier wine of higher acidity than Pinot Noir or Chardonnay – and these are precisely the qualities needed to make it a serious, adventurous and alluring solo performer.