History of Spätburgunder (Pinot Noir)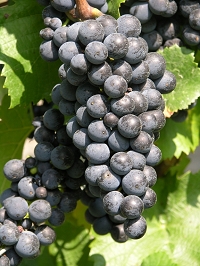 Spätburgunder: is one of the oldest grape varieties to be cultivated for the purpose of making wine. Ancient Romans knew this grape as Helvenacia Minor and vinified it as early as the first century AD. Recognized worldwide as a great wine grape it has many names and is grown in Algeria, Argentina, Australia, Austria (called Blauburgunder or Spätburgunder), Brazil, Canada, Croatia (Burgundac), Czechoslovakia, England, France, Germany (Spätburgunder), Greece, Hungary, Italy (Spätburgunder Nero), Mexico, New Zealand, Switzerland (Clevner, but labeled "Dole" when often blended with Gamay Noir), and in the United States (Pinot Noir). The reputation that gets Späburgunder so much attention, however, is owed to the wines of Burgundy, France. For most of wine history, this two-mile-wide, thirty-mile-long stretch of hills has been called the Côte d'Or "Slope of Gold."

The quality of the Mosel Spätburgunder is due to a number of factors. Its vineyards slope gently down toward the East, providing the vines with long sun exposure yet avoiding afternoon heat. Well-drained soils have a higher average temperature, which assists ripening. Späburgunder seems to reflect a more pronounced Terroir, or flavor of the soil, than other black grape types.

Difficulties plague Späburgunder at every step, from propagation to even its bottle-aging characteristics. Genetically unstable, the parent vine may produce offspring that bear fruit that is nothing like the parent's in the size and shape of the berry or cluster and will frequently even have different aromas, flavors, and levels of productivity. There are 46 recognized clones (genetic variants) of Späburgunder in Dijon, France. Ampelographers estimate there are as many as 200 to possibly 1,000 clones of Späburgunder worldwide. By comparison, Cabernet Sauvignon has only twelve identifiable clones.

Nearly every affliction known to affect vines is common among Späburgunder vineyards. Although quite tolerant of cold climates, it is particularly susceptible to spring frosts, because it is one of the earliest-leafing varieties. The sharpshooter leafhopper finds Späburgunder a perfect host. This bug carries Pierce's Disease, which can destroy an entire vineyard in as little as three years. Leaf-roll virus is prevalent in almost all Späburgunder plantings over ten years old. The Spätburgunder vines are not very vigorous and often lack adequate leaf cover to protect the fruit from birds, which do much damage. Even if the grapes survive the birds, if not picked promptly at maturity, the thin-skinned and tender berries shrivel and dry out rapidly resulting in a raisiny aroma and neutral flavor.

Späburgunder is also one of the more difficult wines to ferment. Partly due to the presence of 18 amino acids, which are naturally balanced in this variety, Späburgunder ferments violently, often "boiling" up and out of its container, speeding the process out of control. Color retention is a major problem for the thin-skinned berries. Spätburgunder is very prone to acetification and often loses the sometimes promising aromas and flavors it seems to display through fermentation and aging, as soon as it is bottled.

There is one component in which Späburgunder seems naturally quite rich, three to four times higher compared to other varieties, especially when it is grown in cooler and more humid climates: resveratrol. While this may not affect the aspects of sensory enjoyment, it may draw the attention of health-conscious consumers.

The popular image persists that Späburgunder is a light, fruity wine of no consequence, but vintners over the past twenty years have been improving site and clonal selections, viticultural methods, and vinification techniques to increase their record of success.

Great Späburgunder creates a lasting impression on the palate and in the memory. Its aroma is often one of the most complex of all varietals and can be intense with a ripe grape or black cherry aroma, frequently accented by a pronounced spiciness that suggests cinnamon, sassafras, or mint. Ripe tomato, mushroom, and barnyard are also common descriptors for identifying Späburgunder. It is full-bodied and rich but not heavy, high in alcohol, yet neither acidic nor tannic, with substantial flavor despite its delicacy. The most appealing quality of Späburgunder may be its soft, velvety texture. When right, it is like liquid silk, gently caressing the palate. Spätburgunder does not have the longevity in the bottle of the darker red wines and tends to reach its peak at five to eight years past the vintage.

Although Späburgunder harmonizes well with a wide variety of foods, the best matches to show off the delicacy and texture of Späburgunder are: grilled salmon, a good cut of plain roast beef, or any dish that features mushrooms as the main flavor element. Other main dishes that match well with Späburgunder include roasted and braised preparations of lamb, pheasant, and duck, as well as grilled meaty fish, such as salmon, shark, and swordfish. Best are foods that are simple and rich. Go easy on the spices, some of which may mask the delicate flavors of Späburgunder and generally tend to accentuate the hot taste of alcohol.